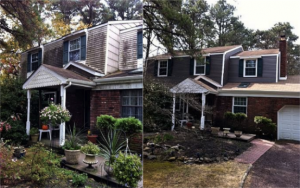 Your house could use a facelift, and you're looking over your options before you call your siding contractor. You're determined that you should use wood, but the price tag for cedar shingle is steep. There is an alternative.
When vinyl siding was first introduced in the 1950's, it rapidly gained a bad reputation for warping, cracking, and discoloring in short order. Since then, whether to use vinyl siding or not has become a contested issue among remodeling contractors and designers.
Thankfully, technology has come a long way from the 50's: improved pigmentation, polymer resins, and molding techniques have revolutionized vinyl siding's beauty and durability. Here at Design a Castle, we are a siding contractor that is well equipped to use vinyl siding.
The Top Four Reasons to Choose Vinyl Siding Installation in South Jersey
Never Paint Again. That's right. Maybe the greatest advantage of South Jersey siding installation is that you can throw out your paintbrushes—the PermaColor™ System guarantees that whichever you choose of the gorgeous colors we have in stock, it will resist fading and remain richly pigmented for the lifetime of your home.
Superior Moisture Protection. Despite wood siding's reputation for superiority, vinyl siding installation in South Jersey is actually less likely to trap moisture, because the hollow paneling allows airflow and drainage. In addition, our South Jersey siding contractors always install a Tyvek house wrap under our vinyl siding to doubly ensure your walls are protected from rain, humidity, mold, and mildew.
Easy to Maintain. Vinyl siding requires very little work to keep it looking pristine—simply wash periodically with a mixture of 30/70 vinegar to water, as recommended by "This Old House" and gently hose it down. (Pressure washing can force water behind the panels and is not recommended.)
Beauty, Durability, and Variety for the Right Price. Vinyl siding is definitely the affordable choice—but you don't have to give up your dreams of a beautiful house just because you're on a budget. As your South Jersey siding installation contractor, Design a Castle Remodellers offers a wide variety of completely customizable siding styles and accessories, including perfection, half-split, and half-round styles, crown molding, and corner rosettes. In addition, many of our sidings come with a strong lifetime warranty—they will never need to be replaced.
Choose Design a Castle Remodelers, the Certified Contractors for Your Siding Installation in South Jersey
The best siding still needs someone to put it up. A shoddy contractor can make a hash of the finest materials. That's why Design a Castle wants to earn your business, with experience, craftsmanship, and superior service. We've been in business in South and Central Jersey since 1972, and we can provide you with local references and testimonials to the many satisfied customers we've served throughout the state.
BBB Accredited
Homeadvisor.com Achievements: Top Rated, Elite Service, Seal of Approval, 5 Years Active Member
Certified by the Vinyl Siding Institute, Simonton Pro Network, Preferred Contractor-Owens Corning, CertainTeed Master Installers, and Preferred Mastic Siding Installers.
Contacts us today, and the owner will get in touch to arrange a free estimate. Bob will explain all of your options to you, with no pressure tactics, to ensure that you are entirely satisfied with your new/old home.