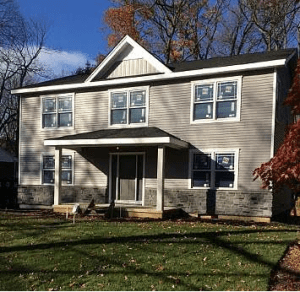 When you're planning to remodel your home, you want to be snug in winter and cool in summer. Have you considered how your windows affect the energy efficiency of your home? Before you talk to your South Jersey window contractor, here's what you need to know about windows and energy.
What is Energy Star and how does it relate to my South Jersey window installation?
Energy Star is a government program set up by the EPA to help figure out the best ways we can use and save energy. For homeowners, this means helping them reduce their energy use (and their bills) by making their homes more efficient. They've worked with the National Fenestration Rating Council (NFRC) and various partners to develop windows that transfer less energy (i.e., heat) from the outside in the summer and the inside in the winter. If your windows feel like heat lamps in the summer, or heat sinks in the winter, you should contact a South Jersey window contractor to get Energy Star qualified windows.
To qualify for Energy Star certification a window must:
Be manufactured by an Energy Star partner
Be independently tested by the NFRC
Meet the energy efficiency guidelines set by the EPA
For South Jersey window installations, this means windows should have a U-Factor of 0.30 or less.
U-Factor is the measure of heat-transfer through a window. The lower the U-Factor, the better a window insulates your home. All Energy Star-certified windows are required to list their U-Factor on the product label.
The EPA estimates lowering the U-Factor of your windows by choosing Energy Star products can cut your energy bills by up to 15%. Energy Star windows convey additional benefits as well, such as:
Keeping your house warmer in winter
Reducing winter condensation, which can damage your window frame and introduce mold into your home.
Protecting your home from summer heat while still letting you enjoy the summer light
Shielding your possessions from the fading effects of UV rays, which can slowly bleach pictures, furniture, and carpets.
Saving you even more money with valuable tax credits.
Need a South Jersey Window Contractor? Contact Design a Castle
We are a windows contractor that uses only Energy Star-certified windows with the lowest U-Factor rates on the market. Reach out for a free estimate today, and our owner, Bob, will personally walk you through the wide variety of window styles you can choose from. With over 40 years of experience, Design a Castle will give you the best customer service experience of your life–just ask our many satisfied customers!
The window crew worked hard, efficiently, were very polite and cleaned up around the work site very well. […] Bob [the owner] is very professional, great communicating with his crew and us and always eager to answer our questions. Small issues were addressed quickly and we are very satisfied.
☆☆☆☆☆ Brad A. In Medford, NJ
Check out our summer sale for unlimited BOGO deals on windows, and more!