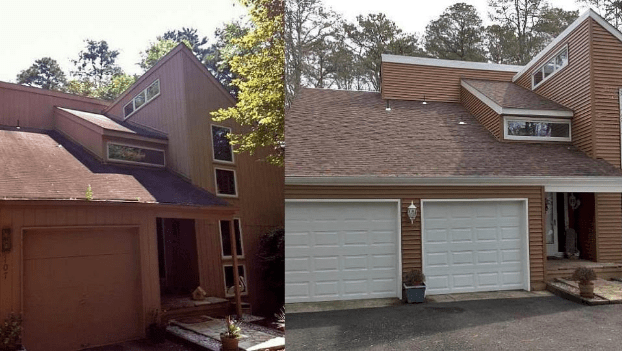 You've been making great use of the long summer days to do any renovations or repairs your home might need, but what about the roof? Most South Jersey roofing contractors find that property owners tend to neglect their roofs until a problem springs up or a leak drops in. Why not take advantage of the good weather to inspect your roof and get it ready for the winter–after all, it won't stay warm forever, and a poorly maintained roof can result in serious damage to your home or property.
Inspecting Your Roof: What to Look For
You should check over your roof, or have a qualified roofing contractor in South NJ inspect it, at least once a year. There are six key signs that your roof is at least in need of repair, or may need to be replaced.
Leaks: storms leave behind puddles in your attic or other rooms.
Wall Stains: you find marks or stains on your interior walls and ceilings, or patches of mildew and mold inside your home.
Discolored Roof: your shingles have patches of differing color, indicating uneven wearing or damage.
Warped or Missing Shingles: curling, deformed, or missing shingles, particularly in the valleys of your roof.
Stray Shingle Granules: you find shingle granules in your gutters—a sign of deterioration or poor installation.
High Energy Bills: your energy bills are extreme, possibly due to a poorly installed or insufficiently insulated roof. Your South Jersey roofing installer can advise you if there's a more efficient roofing material for your home, or if there are tax rebate programs for installing Energy Star-rated materials in your neighborhood
If your roof is exhibiting any of the above issues, it's definitely time to call a South Jersey roofing contractor. Depending on the extent of the damage, they may advise you to do a spot repair. However, it may be more cost-effective to replace your roof entirely; in fact, if your roof is over 20-25 years old, it's definitely time to get it replaced with modern, more durable and energy-efficient materials.
Design A Castle Remodelers: The Roofing Contractor You Can Trust
Great salesman, no pressure, just came in and explained his products, did not overstay his welcome, was very quick with the written quotes. Workers were very neat and clean, they completed the entire project in the allotted time frame. Would highly recommend them.
— Five-Star Review by Lou S. in Berlin, NJ
Design a Castle has been turning dream homes into reality since 1975. Every job is supervised and inspected by Bob, the owner, and his personal touch has guaranteed customer satisfaction for decades. Our work is fully certified and has earned many awards and recognitions.
Better Business Bureau A+ Rating
Builditgreen.org – Certified Green Building Professional
Angie's List A+ Rating
CertainTeed Master Installer
Owens Corning Preferred Contractor
Certainteed Master Installer
Simonton Pro Network Member
Our work and reputation speak for themselves: contact us today for a free estimate, and we promise that you'll find our attention to detail, commitment to teamwork, and passion for excellence will exceed your every expectation.